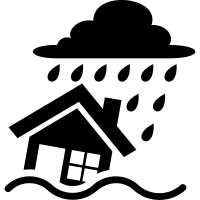 Insurance Companies and Water and Fire Damage Restoration
Most homeowners have homeowners' insurance that covers most water and fire damage. It's never a bad idea to hire a water and fire damage restoration company to complete an independent assessment and cost estimate. Hopefully, you won't need it, but if legal action becomes necessary, it's a handy document to have in your corner. Alternately, you may find your independent cost assessment comes in underneath the insurance company's. Or, you may find you don't want to return your home to its original condition, lopping off a damaged section or using the disaster as an excuse to complete a home addition. Again, there is no downside in talking to a water and fire damage restoration company, just don't wait until it's too late!
Fire Damage Restoration
Anytime your home suffers a fire of any magnitude, you're in for a big cleanup. The areas directly affected will most likely have to be remodeled and restored to ensure their structural stability. Beyond that, smoke and fire residue present health risks (mostly respiratory), and the smell of a fire can be almost impossible to get rid of. In all cases, clean everything thoroughly to begin with. Use a HEPA vacuum to ensure you capture all small particulates of soot, debris and fire extinguisher residue. After that, be sure to remove all other larger debris from your home. Ventilation is also an important step. Open all windows, and use fans to ventilate the affected rooms to help get rid of the smell. Be sure to clean first, however, as using fans around dust, soot and other fine dusts can cause respiratory distress. Finally, call NewDay Development, Inc., a fire and water damage restoration company to do the real dirty work. We have equipment and procedures at the ready that no average homeowner has access to.
Water Damage Restoration
With water damage, the primary concern is drying out your home as soon as possible. Once you've had the structural integrity of your home assessed and approved, do whatever you can to get the moisture out. Vacuum out any standing water with all-purpose vacuums, set up dehumidifiers in the affected rooms, and set up as many fans as possible to speed up the drying out process. Failure to do so can lead to mold, fungus, and mildew problems, all of which will require a major mold remediation project to eliminate the problem. If your home has incurred substantial water damage, be sure to call NewDay Development, Inc. to come in and tackle the job. Just as with fire damage, we have commercial-grade solutions at our disposal, including freezer, cryogenic, vacuum freeze, and vacuum thermal drying techniques to get things back to normal as soon as possible.