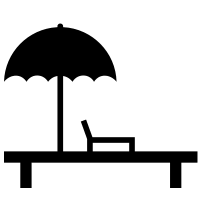 Have you ever dreamed of having your own custom deck? If so, you are not alone. Decks make a beautiful addition to any home and they are a great place to sit and relax. Here , we  discuss several benefits of installing a custom deck on your property. You just might be surprised what a deck has to offer you. Although installing a deck onto your home may seem like a major project, there are major benefits to doing so. With the help of NewDay Development, Inc. you can create a beautiful place to relax outside. A deck can also serve as a gathering place for your family to enjoy special memories together.
If you're considering installing a deck onto your home, consider the following benefits-
Benefits of Installing a Custom Deck:  They add long lasting value:  Decks are made from highly durable materials and can stand the test of time. With just a little care, a deck can last for many decades without the need for replacement. This added value will help boost your overall property value which is always an added bonus.
Adds Aesthetic Appeal to Your Home's Exterior:  Whether you choose a natural wood or composite finish, your deck can add an aesthetic appeal to the exterior of your home. In addition, you can also place decorations on your deck that will further complement your home's design. For example, you may choose to add lights or garlands around your deck to create a peaceful environment where you can relax on those warm, summer nights.
Decks come in a variety of colors and finishes:  With all of the design options, you can likely paint or stain the deck to complement your home's current design. For instance, many homeowners will match the color of their deck with the color of their window shutters. When you coordinate your deck with your home's design, you can create an exterior design that looks both natural and appealing.
They make great meeting places:  Does your family love to grill out? A custom deck will give you plenty of space to host grill outs, family picnics, and neighborhood parties. A deck can make a great meeting place for just about any outdoor event.
Room to grow:  Decks are a great place to grow your own food. A container garden can grow many of the fruits and vegetables you love to eat without the hassle of a traditional garden. So if you have a green thumb, you should really think about adding a deck to your property soon.
They are highly affordable:  There are many different types of deck materials on the market today, and many of them are highly affordable. This allows homeowners that are on a tight budget to still enjoy their very own deck without breaking the bank. On the other hand, if you wish to make a large investment in your deck, the sky really is the limit on what you can design.
Boosts the Value of Your Home:  If you are looking for an affordable way to boost the value of your home, a deck is a great option. In fact, some experts claim that installing a deck can increase the value of your home by more than if you were to add another bathroom or living room. Also, decks are normally much more inexpensive to add to your home than these other home renovations.
Increases Square Footage:  Another reason why decks are so popular is that they can increase the square footage of your home. During the warmer months, a deck can essentially extend the usable space of your home for activities like eating, relaxing, and cooking on the grill.
Provides a Place to Host Parties and Family Get-togethers:  Decks are also a great place to throw summer parties, barbeques, and family get-togethers. Guests can visit with each other while enjoying the warm weather and fresh air. And decks enable you to better utilize your yard space, so guests can have more places to relax or play games.
They can be built quickly:  Most decks can be built in just a few days to weeks. While they are highly durable and permanent structures, they can be installed fast. This means that you will be able to enjoy your investment right away without the need to wait.
The cost of installing a deck will largely depend on the size of the deck and material you use. However, most homeowners will recoup nearly 70% of the cost to build a deck after they have sold their home. Keep in mind that the higher-quality materials tend to last longer and appeal to more homebuyers.  In fact, many homebuyers prefer homes with decks in the backyard, especially if the deck was professionally designed. Decks provide a clean, outdoor space that can particularly appeal to home buyers with families.
When you add patio furniture, bird feeders, and potted plants, decks also provide a place to enjoy nature on your property. Most decks have usable space underneath them as well. This area is an ideal place to store outdoor equipment that may otherwise clutter your yard or garage.  You may want to add additional features to your deck to better host your guests, such as lighting, a grill, or built-in kitchen. You may even consider adding an outdoor fireplace.
If you want to take advantage of these benefits, contact the decking professionals at NewDay Development, Inc. to help you design and build the perfect deck for your needs.  We'd be happy to discuss your questions or concerns.