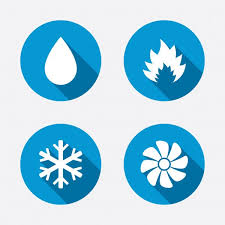 Want to know the biggest energy hog in your home? It's your HVAC system. That's why as a homeowner, making smart decisions about your heating, cooling and ventilation process can make a difference on your utility bills as well as your comfort levels.
If your HVAC equipment is more than a few years old, it may be time to upgrade to a new, high efficiency HVAC system.
Furnace Cost Savings  Replacing an older furnace with a high efficiency one can begin saving you money on your very first bill. Furnaces are measured by AFUE (annual fuel utilization efficiency.) Many older systems operate around 65 percent AFUE, meaning 35 percent is simply lost up the flue pipe. High efficiency units operate at 93 to 98 percent AFUE, meaning less is being wasted every time it's put to use. That means it's better for the environment and your pocketbook.
A/C Cost Savings  Just like your furnace, replacing an older inefficient A/C can save you big time. Air-conditioning systems are measured by SEER (Seasonal Energy Efficiency Ratio.) The higher the SEER, the bigger the savings. Older systems operate in the 8 to 10 SEER range. New units range as high as 25 SEER, this will save you 8 to 10 percent per increased SEER point. High efficient systems will pay for themselves over the units life time, allowing you cool, dry, and most of all – affordable air.
Comfort  Because of newer technology, today's HVAC equipment produces more even heating, helps maintain a constant temperature in every room in your home, provides consistent levels of air flow, and has superior humidity control. All of that adds up to a more comfortable home to live in.
Air Flow  High efficiency systems have variable speed motors that ensure air flow at the perfect level throughout your home. Variable speed motors increase the static pressures in your ducts, giving you more air at each register. Along with better air flow, variable speed motors operate at super energy efficient levels, allowing you to run your fan year round, filtering the air constantly without a major jump in the power bills. Better air flow means more comfortable temperatures in every room, which helps keep the air healthier as well.
Noise  Older models begin to shake, rattle and roll every time they start a cycle. Today's modern equipment has sound absorbing materials in place that ensure your equipment is felt but not heard.
Environmental Impact  If going green is important to you, an upgrade will point you in the right direction. High efficiency systems use up to one-third less fuel than older models, which means they help conserve more of our natural resources.
Options  High efficiency systems come with a variety of options. They come with programmable thermostats to help control temperatures throughout the day. They offer the newest in technology, which can introduce everything from solar to geothermal technology into your home. Your priorities can lead the way to install the best equipment for your situation.
Increased Resale Value  Thinking of selling your home in the next few years? A new high efficiency HVAC system can give your home the leading edge. Prospective home buyers look for benefits, and this can be a major checkpoint on their list. And by installing now, you can easily show the difference it makes in the utility bills.
Is now the time to replace your HVAC equipment? To help you make the best decision, we're happy to evaluate the equipment you have, and show you the best options for your home. Give us a call today.